Advising
Undergraduate Advising Office
COVID-19 Updates
It's been a long year, but we're happy that students are able to return this semester. In order to keep everyone as safe as possible, Zoom appointments are encouraged whenever possible. If you feel that you need to have an in-person appointment, please email our undergraduate advisor, Summer Cacciotti, at s.cacciotti@austin.utexas.edu with your name, EID, and request. In-person appointments will observe social distancing, so you will need to bring your laptop with you. Masks are strongly encouraged.
If you are seeking a seat in an AMS class, you can email Summer at the address above, including your name, EID and the course you're seeking. During initial course registration, top priority in classes will go to majors and minors. If you're interested in becoming an American Studies major, you can set up a Zoom appointment.
Schedule a Zoom appointment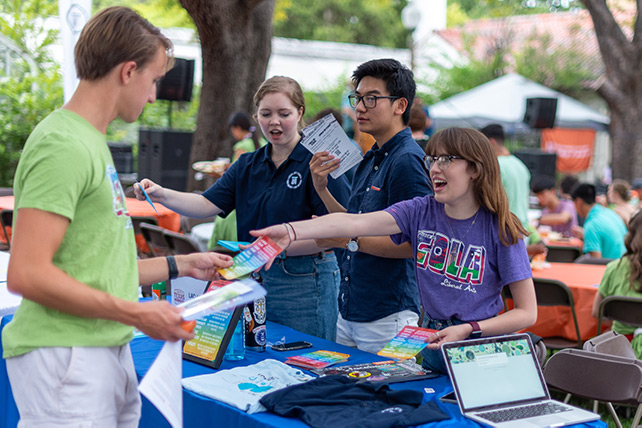 American Studies Undergraduate Advising is:
the place to go to explore American Studies as a major
for degree-planning for current majors
to get more information about AMS Departmental Honors
to discuss post-graduation plans
a place to get support during your undergraduate journey

as well as to find out about American Studies courses and faculty
Advising Audits
One of the best tools for advising is an advising audit. This is a computer-generated list of all your classes, as they apply to your degree plan. They are available anytime with a 24 hour advance notice.
You may also create and view your audits online using IDA, the Interactive Degree Audit. This option is available at all UT computers which have utACCESS, and you may also access IDA via ROSE.
Advising Bars
As an American Studies major, you will have an advising bar placed on your record when either of the following conditions exist:
You are new to the major
You are on scholastic probation or have more than one major (the other major may place the bar)
Advising bars are not disciplinary measures! They are simply a tool we use to ensure students who can best benefit from advising actually take the time to come into our office. Advising bars are placed on your record just before registration. To get an advising bar removed, you must come in person for advising in our office (we will not remove a bar over the phone).