Degree Requirements
Economics is housed in the College of Liberal Arts and offers Bachelor of Arts and a Bachelor of Science degree.
Current ECO Majors can now switch to the BS Econ degree!

Fill out this survey to switch to the BS Econ. This form is for currently declared economics majors only, to request a switch from the Economics Bachelor of Arts to the Economics Bachelor of Science major. We will process your request within 10 university business days.

Students using Veteran's Benefits should speak to a Dean's Office advisor prior to switching.

Prospective economics majors, not yet admitted to the major, will follow a different process. You can find more information on our internal transfer website.
Switch to Bachelor of Science in Economics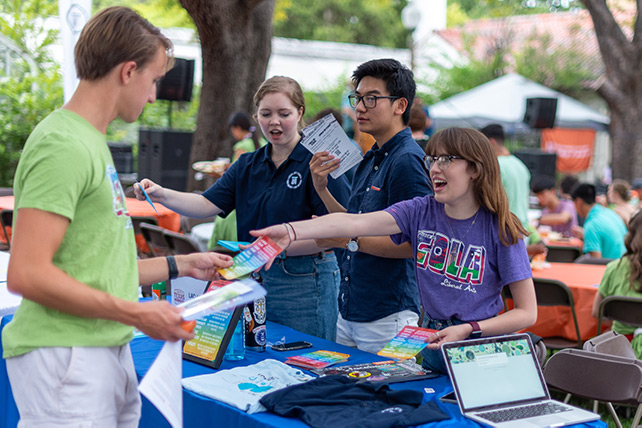 Grade Requirements

Economics majors must obtain a C or higher in ECO 329, and a C minus or higher in all other ECO classes counted toward the major (ECO 304K, ECO 304L, Calculus, 420K, 320L, 441K, and Three Upper Division ECO Electives).

A minimum GPA of 2.0 in all economics classes (combined) counting toward the major is required to graduate.

Residency in the Major

The following Economics courses must be taken in-residence (at UT Austin):

ECO 420K Microeconomic Theory
ECO 320L Macroeconomic Theory
ECO 329 Economic Statistics
ECO 441K Econometrics.

A minimum of 18 hours of economics classes counting toward the major must be taken in-residence.

Calculus Requirement

Calculus is required for both the BA and the BS in Economics.

For the BA, students can take M 408Q in residence at UT to satisfy the caclulus requirement.

For the BS, students must take an approved calculus sequence. Students who are taking calculus outside of UT must complete an approved sequence and transfer the credits back to UT.

Approved calculus sequences are M408C and M408D, M408K and M408L, and M408N and M408S. Each course MUST be completed with a grade of at least a C minus. Business Calculus (M403K and M403L and their equivalents) CANNOT be substituted for either sequence.

Maximum Semester Hours

Students can take no more than 3 ECO courses in the same semester.

Undergraduate students may not register for more than 17 hours in any long-session semester. In summer, maximum hours are 14 hours in whole session and 8 hours in either session 1 or 2. Approval from College is required to be able to register for the more than maximum hours for long-session semesters and summer.

Minor Requirement

Economics majors in the Bachelor of Arts program MUST complete a minor. You can have only one official minor per major.

Economics majors in the Bachelor of Science program are not required to complete a minor. This requirement is replaced by the additional science requirement for the BS.

The minor requirement is 15-21 hours of coursework. Students must apply for a minor from the approved list of minors with specific course requirements. A certificate can replace a minor. A second major might replace a minor (talk to an advisor about this). Minors are not listed on the diploma but they ARE on the transcript. If you are ready to declare your minor, an advisor can help you navigate the steps in a drop-in or via email.

If you are a major in another discipline interested in minoring in economics see Minoring in Economics.
Electives

The economics major generally requires roughly 15 hours of electives (at least 8 of which must be upper division) BUT the specific number of elective hours you will need depends on your catalog and other factors. You should consult with your academic advisor. Electives can be selected from almost any subject offered at UT. They are an opportunity to explore interests outside the major and minor. If you are a double-major or dual-degree-seeker, the coursework in your other major may satisfy elective hours for the economics degree.

Accordion 2

Panel 2. Add body text in this space.

Accordion 3

Panel 3. Add body text in this space.

Accordion 4

Panel 4. Add body text in this space.

Accordion 5

Panel 5. Add body text in this space.