Undergraduate Program
Let's start with why ethnic studies programs exist at all.
"As an interdisciplinary scholarly field, ethnic studies is about self-respect and self-determination. It's about racialized groups -- workers, students, scholars, organizers and others -- refusing to be viewed or gazed upon from a Eurocentric paradigm as inferior or less than. It's about rejecting the scholarly practice of being objects of studies. Instead, we demand to be the subjects in this equation. As subjects, we don't need outsiders writing our stories, narrating our histories and planning our futures.

As subjects, we, too, create knowledge!"

From "The Right to Ethnic Studies in Higher Education," by Alvaro Huerta.
Read More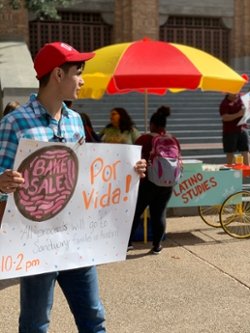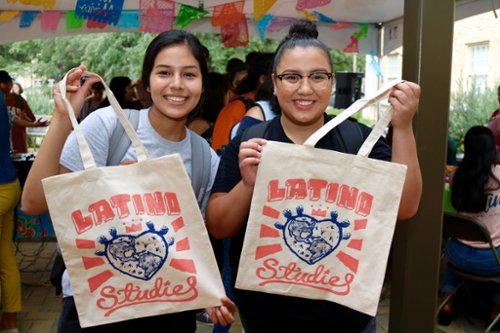 What's the difference between Latino Studies and Latin American Studies?
We get that question a lot. Together, we think of ourselves as two parts of the same story...
One part exists south of the border, teeming with life, tradition, and challenges of its own. But our story, the Latino Studies story, begins en el otro lado. Central to our mission is the interdisciplinary study of what it means to be a Latino in the U.S. today, invoking policy and law, history and activism, and the social sciences and the arts in the production of knowledge about the great beauty and burden of the Latino experience. Our faculty and students engage in topics ranging from the environmental toll of the surveillance infrastructure along the U.S.-Mexico border, to the evolution of spiritual practice among Latinos and its parallels with 21st century American political and social change, considering each in the context of immigration, race, gender, sexuality, social class, and so on. Students' personal experiences are a vital part of the process by which, together with professors who also share in this collective history, our courses redress the omissions of textbooks and finally let communities of color be seen and heard.
Even in today's hostile climate, we boldly tell the stories of Latinos past and present. From the faculty we hire to the events we organize, from the conferences we hold to the new research we support and produce, we believe what distinguishes Latino Studies at UT the most is our commitment to fearless scholarship. By being open to topics like sexual and mental health in Latino communities, and including those voices too often pushed outside the margins of our Latino pride, like queer and trans Latinos, we are doing the real, hard work of getting to know ourselves, for it is only with audacity that we can dare to imagine a better future for Latinos. So long as we exist, our students will always find a place to hear the stories never told, and leave with the nerve to go on and write new ones.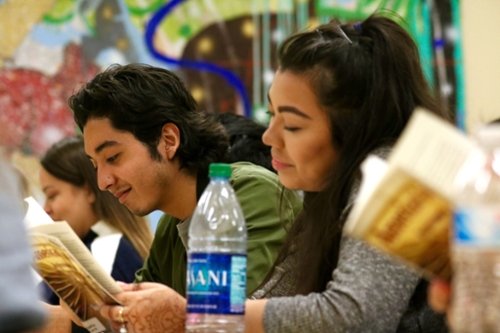 What skills can I gain in MALS?
Ethnic Studies is inherently multidisciplinary, meaning that your classes will incorporate readings and methods from a variety of disciplines that have all been brought to bear on the issues that continue to impact Latino communities across the United States. This also means you will have plenty of practice intellectually engaging with a variety of subject areas, making you...let's all say it together...WELL-ROUNDED! You'll hear this phrase a lot with regard to any liberal arts focus, but we promise you, it's a real thing. Companies like to mold young employees at an entry level and tailor their skillset to their organization's particular aims. As a MALS major, you're automatically a more malleable candidate than someone whose undergraduate focus might be thought of as too narrow or too technical.
But what jobs can this get me?
We're going to make a wild assumption and say that if you're even considering majoring in Mexican American & Latina/o Studies, then it's not just about the money for you. That being said, we'd like to assure you that majoring in the liberal arts does not doom you to a life of poverty, despite what your parents may have told you.
What's that? An academic department talking about money?!
Here in Latino Studies, we're not afraid to keep it real with you. We know that your generation is a practical one that is awake to the economic pressures that lie in wait post-grad. Moreover, we know too well the sacrifices many of you and your families have made to get you here and we wouldn't dare lead you on. So, with that being said, we're going to share some of the careers that our alumni have gone on to have:
Director, City Finance
Teacher
Community Organizer
School Principal
Attorney
State Representative
Director, Legislative Budget Board
Legislative Director for State Representative
Budget and Policy Analyst, Dallas County
Medical Access Program Manager
Founder of Siete Family Foods
Television News Anchor
Director, Medical Center
General Counsel for Public Transit
Senior Vice President, PepsiCo
Director of Development
What you likely have in common with many of our alumni is that your interest in Latino Studies has to do with your desire to improve your community. We believe change for our communities can be affected in a variety of careers, from politics and nonprofits to law and business. Through special class visitors, regular public programming, and other events and initiatives, we create opportunities to introduce students to industries that are both familiar and new. Our hope is to expand your idea of what your professional life can look like beyond college and expose you to fields you may not have thought of in relation to Latino communities.
For more information contact our Senior Academic Program Coordinator, Luis Guevara, at lvg@austin.utexas.edu.
Career Resources