Academic Advising
Scholarship Opportunity for Spring 2023
DAVID IVEY SCHOLARSHIP NOW OPEN
DEADLINE: Friday, December 9, 2022, 5 PM.
$1000 award (2 applicants will be awareded)
Qualifications: major in Psychology, good academic steanding Documented volunteer experience
Student must submit a resume and letter(s) from volunteer supervisors.
Important info: please read carefully:
1. The David Ivey Scholarships are designed to reward students who spend time doing community service while taking classes at UT. The most competitive applicants are students who have been volunteering with the same agency, hospital, and/or organization on a regular basis rather than in multiple single session events (e.g. walk-a-thons), and whose service work is done fully voluntarily rather than as a requirement for a class (e.g., Social Work 310) or student organization membership. Volunteer work in faculty/research labs is not consistent with the intention of the donors.
2. The letters from your supervisors can be recommendations but they should also confirm the number of hours you've volunteered either overall, per week, etc. They need to show the name of the agency/organization/unit where you did your volunteer work and they need to be signed by a supervisor. If you want to highlight multiple volunteer experiences, please try to get letters from each one.

Please submit your application documents to grant.overman@austin.utexas.edu.
Submit your documentation here.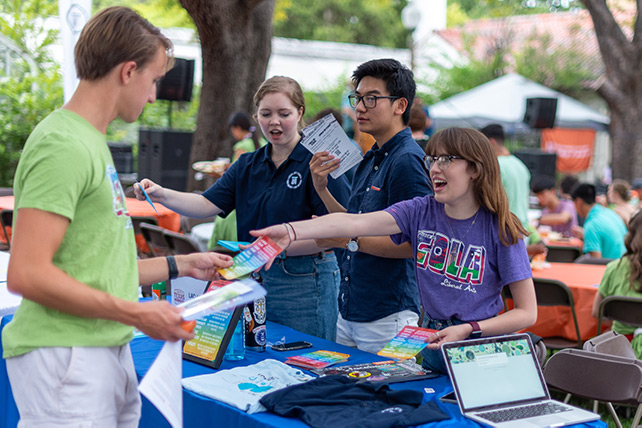 One-Time Exception Drop Deadline
Students may drop a single class or withdrawal from the university after the mid-semester deadline using the One-Time-Exception (OTE).

OTEs must be initiated by December 5, 2022 at 5 pm or before a final grade is posted - whichever is earlier.

A student must request the OTE from a Dean's Office advisor by the last class day. You may connect with an advisor in GEB 2.200 or via Zoom and our online live chat.

Every undergraduate is allowed one OTE, whether it is used to withdraw from all classes or drop one class. An OTE drop counts as one of your six Q-drops. Once you've used it, you cannot use it again.
Chat with a Dean's Office Advisor.